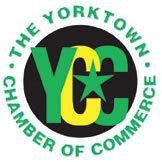 Events To Remember PR 3 North Moger Avenue, Suite Two
Mt. Kisco, NY 10549 Phone – (914) 218-3968
Chereese Jervis-Hill, President Email – EventsCJH@EventsRemember.com
FOR IMMEDIATE RELEASE
The Yorktown Chamber of Commerce Hosts "Best Of" Awards Cocktail Reception
 Yorktown, NY, April 27, 2017 – Join the Yorktown Chamber of Commerce as they host their "Best Of" Awards Cocktail Reception on Thursday, May 18, 2017 from 6:30pm to 9:30pm at Travelers Rest, 25 Saw Mill River Road, Ossining, New York 10562. The 2017 Honorees are: Businessperson of the Year – Irene Amato, A.S.A.P. Mortgage Corp.; Business of the Year – Yorktown Auto Body; Organization of the Year
– Yorktown Police Benevolent Association. Enjoy a "Great Gatsby" themed cocktail reception with fun activities all evening as the Chamber recognizes the honorees and their outstanding contributions to the community.
"It's a great evening for all members to come together and enjoy each other's company and network" said Eric DiBartolo, President of the Yorktown Chamber of Commerce. "Our members look forward to this event every year."
Irene Amato is the Founder and President of A.S.A.P. Mortgage Corp., which was established in 2001. Irene built A.S.A.P. Mortgage Corp. from the ground up, and has surrounded herself with true professionals who share the same goal of providing clients with a unique boutique mortgage shopping experience. Today
A.S.A.P. Mortgage Corp. has four office locations providing a full array of mortgage products with the most competitive rates and top personalized service.  With over two decades of experience, Irene has become a leader in the mortgage industry and is heavily involved with the New York Association of Mortgage Brokers (NYAMB) Board of Directors, the legislative committee, and an advocate of continuing education for loan originators and realtors.
Yorktown Auto Body has had a presence in the community since 1953, providing expert automotive and towing services. Their continued tradition of caring attention and detail to cars in need of repair as well as meeting the owner's specific requirements is what separates Yorktown Auto Body from other auto body repair businesses. State of the art technology and services to go along with continuous training has allowed Yorktown Auto Body to form a thriving partnership with their customers.
The Yorktown Police Benevolent Association was incorporated in 1966 with a mission to promote the good and welfare of the union, its members, and to support the goodwill of the community. The Yorktown PBA have sponsored or supported many community outreach programs which include The Alliance For Safe Kids, Toys for Tots, Swim Olympics, Child Fingerprinting, and the D.A.R.E. program. In addition to their community outreach and support, the Yorktown PBA provides annual financial contributions to national charities, and are currently planning for the future with workshops to help the community address issues of importance such as teen drinking, identity theft, and CPR.
Guests will enjoy cocktails, food stations, and passed hors d'oeuvres beginning at 6:30pm with live music. This year's "Best of Awards" Cocktail Reception will be sponsored by House of Flowers, our Entertainment Sponsor, and Fieldhome who will be providing a special treat for everyone as our Thank You Gift Sponsor. Tickets are $85 per person. To reserve a seat at this year's Celebration or to place an ad in the Virtual Journal to celebrate the 2017 Honorees, please call the Chamber Office at (914) 245-4599 or visit the Yorktown Chamber's website:  www.YorktownChamber.org.  For event questions, please contact
Events To Remember at 914-218-3968 or via e-mail at EventsCJH@EventsRemember.com.