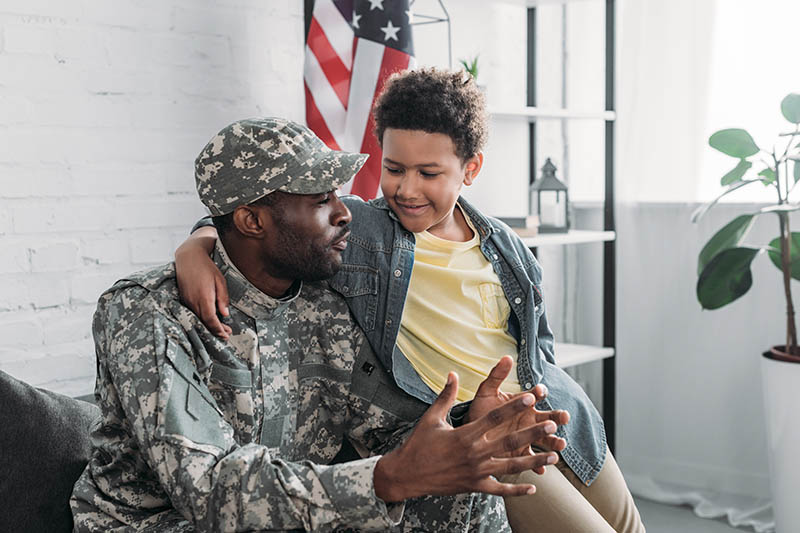 VA Loans for New York, Connecticut, Florida, Massachusetts, Pennsylvania & New Jersey
Are you are a veteran, member of the military or military spouse? You may qualify for a VA loan.
VA Loans offer flexible options as either fixed-rate or ARM mortgages. You may qualify for fast approval and a hassle-free loan even with less than perfect credit.  Refinance up to 100% of your home or buy a new home with no down payment and never pay monthly insurance (PMI)!
VA Loan Highlights
Fixed-rate and Adjustable loans available
Jumbo VA loans available
Refinance up to 100% of your primary home's value
VA Streamline Refinance with a reduced funding fee and flexible documentation requirements – available for veterans currently in VA loans
Buy a home with no money down (primary home)
No monthly PMI (Private Mortgage Insurance)
VA loans are governed by the U.S. Department of Veterans Affairs
How VA Home Loans Work
Fixed rate monthly payments are based on interest rate, principal loan amount and amortized interest a fixed amount (term) of years. Your payment will not change throughout the life of the loan
Adjustable loan interest rates are fixed for a certain period of years. After the fixed rate period, your interest rate can adjust up or down depending on the market
Pay additional principal payments to your mortgage at any time without pre-payment penalties
Have any questions regarding VA loans? Contact our mortgage loan company today at (914) 736-ASAP! At A.S.A.P Mortgage Corp., one of our licensed mortgage specialists would be happy to answer all of your questions and get you started with a great low rate today! Our team is proud to serve members of the military, veterans and their families throughout NY, CT, FL, MA, PA, NJ, and RI! In New York, we proudly serve residents in White Plains, Croton-on-Hudson, Cortlandt, NY, as well as the surrounding areas of Orange, Westchester, and Dutchess County, NY. In the state of Florida, we are happy to assist clients across Fort Lauderdale, Hollywood, FL; as well as both Broward County and Palm Beach County, FL.
Working with A.S.A.P. Mortgage Corp.
We are USA Care Certified Military Loan Specialists.
A.S.A.P. Mortgage has a superior support team to expedite every stage of you loan in a timely manner.
We will oversee every aspect of the loan process with the quality, care and concern you deserve.
A.S.A.P. Mortgage services NY, CT, NJ, PA, MA, & FL
A.S.A.P. Mortgage has established relationships with over 40 Nationwide Lenders.
Get started today!
Fill out the questionnaire on this page to start a discussion about your mortgage needs today!